If you're interested in saving on travel, you've probably heard that credit card rewards can help you do it.
If you're not familiar, here's the low-down: You apply for a new card, meet a minimum spending requirement, and receive a generous signup bonus. You continue to earn points on every purchase you make, eventually redeeming those points to cover travel-related expenses like flights and hotels.
Points are a frugal traveler's best friend. Except when they aren't.
Not all rewards programs are straightforward, and not all cardholders are savvy about how to use them to their full potential.
Worse, some people become so obsessed with points that they lose sight of the…well…point – saving money.
Adhering to these eight rules of the road will help you get the most from your card while avoiding costly mistakes.
Never Overspend and Always Pay It Off
One of the biggest mistakes people make with rewards credit cards is overspending to earn more points. Instead of buying what they need, they increase their spending just to earn points. Worse, they rationalize purchasing things they can't afford to earn extra points. Ugh.
The whole purpose of earning and using points is to save money. If you're spending extra money just to earn points, you're shooting yourself in the foot.
Never buy something you don't need or can't afford just for the points. And never, ever charge so much that you can't pay your bill in full and on time every month. It doesn't matter how many points you earned, paying credit card interest negates their value. Full stop.
Make Your Card Your Go-To Payment Method To Earn Credit Card Rewards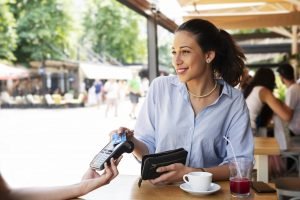 The best travel rewards credit cards typically provide a hefty signup bonus once you meet a minimum spending requirement during the first few months you have the card. How are you supposed to make sure you meet it without spending extra money?
The smart approach is to use your card for all your regular, everyday purchases and bills – things you need and would buy anyway. Think groceries, gas, your phone bill, internet, and home and auto insurance.
By ditching cash and debit and make your credit card your payment method of choice, you shouldn't have any trouble meeting your card's minimum spend. Plus, this is the best way to accumulate points consistently over the long term.
I use a rewards credit card to pay for everything. And I do mean everything. I don't care if it's $1 – I'm pulling out that plastic.
If you've been gearing up for a major purchase and have the cash to pay for it, this would also be a great time for a new card. Make the big purchase with your card, pay off your bill, and collect your points. It's that simple.
Know Your Credit Card and Take Advantage of its Benefits
It's amazing how many people aren't aware of their card's full benefits package. Sure, they know about the signup bonus and how many points they'll earn per dollar, but most premium cards have a suite of other perks worth taking advantage of.
For example, one of the biggest benefits of the Chase Sapphire Preferred Card is that it comes with a travel insurance package. Trip cancellation/interruption, trip delay, baggage delay, and primary auto rental insurance are all included when you use your card to pay.
As another example, the Bank of America Premium Rewards card includes a $100 statement credit each year to cover incidentals like checked baggage and seat upgrades.
Perks like these help you travel for less and should not be overlooked!
Score a Card with No Foreign Transaction Fees
If you're shopping for a travel rewards credit card, it's reasonable to assume you're planning on traveling. Some people don't realize that many credit cards charge a foreign transaction fee when you pay for purchases in another currency. It varies by card, but a fee of about 3% is typical.
For a frequent traveler, that adds up. Do yourself a favor and look for a card without foreign transaction fees.
Don't Cash in Your Credit Card Rewards for Gift Cards
The best travel rewards cards offer flexible redemption options. That's a good thing, but it can be confusing, too.
If you want to get the most from your points, you need to figure out which redemption options offer the best value per point.
Here's a hint: It's almost never gift cards.
Redeeming points for gift cards rarely provides the same value per point as travel redemptions. As a standard rule of thumb, just don't do it.
Book Through Travel Portals to Ramp Up Your Return
In most cases, you'll get the most value per point when you redeem your points for travel through the issuer's online portal. In many cases, your points may stretch even further if you spend them to book travel experiences through the portal.
For example, Chase Ultimate Rewards points are worth 25% more when you redeem them for travel using their online portal.
Of course, redemption values vary by card, so take the time to understand how your specific card works before pulling the trigger.
Transfer Credit Card Rewards to Partner Reward Programs
It seems counter-intuitive, but sometimes you can get even greater value for your points by transferring to a partner rewards program.
If your card offers this kind of flexibility, you need to familiarize yourself with the other programs to determine if it's worth it for you.
It can be a bit of work, but if you're obsessed with points, it's fun to strategize how to stretch each point's value. Or maybe that's just me.
Make Sure You're Getting the Best Deal
When redeeming points for flights or hotels, check the real-life prices before you book. That way, you know you're getting the best deal.
Sometimes, the airline or hotel may have a sale that's equal to or even better than using points. This can happen when the sale price doesn't apply to purchases made with points.
For example, say a flight's regular price is $600, and you can redeem 50,000 points to cover it. Your points are worth 1.2 cents each – nice!
If the airline puts that seat on sale for $425 but is still charging 50,000 points, now you're only getting 0.85 cents per point. If you know you'll be traveling again soon, it may be better to pay the $425 and save your points for a time when you'll get better value.
Final Thoughts
Using a rewards card for everyday purchases and bills can save you thousands on airfare and accommodations. Just follow these eight rules and you'll be traveling on points like a pro in no time.
Thanks for reading and happy traveling!
Have you traveled using points and miles before? What mistakes have you made when redeeming rewards? Let us know in the comments.