I was able to turn my side gig into my full-time job after one year. I am no side hustle pro, but I do want to share with you my top 5 tips for turning your side gig into your full-time career.
1. Start With A Skill You Enjoy
Since you will be doing the side gig in your off-hours, it needs to be something you actually enjoy doing. This might mean you need to test out a few side hustles before you land on the right one. I ran my own photography business, had a podcast, and even tried my hand at tech reviews on YouTube in the phone camera niche. While all of these side gigs were important to my growth, I was not going to become a side hustle pro at all of them.
For example, my photography business helped me through college, including grad school. While I still love and will always be taking photographs in some form, working with brides every weekend was not something that brought me joy. I was trying to monetize something I needed to keep for myself as a hobby and art form. Once I realized this, I let this side gig go and moved on to try something else.
2. Take Your Time To Scale & Keep Your Day Job
As you try out your skills, it's important that you're still making money. You've still got to pay those bills! You won't hear me telling you it is time to quit your day job and jump in headfirst. While I think you should pursue your dreams and turn your side hustle profession into your day time business, you've got to keep a financially healthy balance. So take your time in scaling your side gig. Build a client base and brand you can count on.
In my case, it took me a year of scaling once I had found my ideal side hustle before I quit my day job. While many things went into this decision, I made sure I was replacing my teacher paycheck for three solid months and that my partner and I were ready for the financial implications of me quitting my job (i.e. losing health insurance and no longer being eligible for PSLF student loan forgiveness).
3. Create Systems for Tracking Your Side Gig Metrics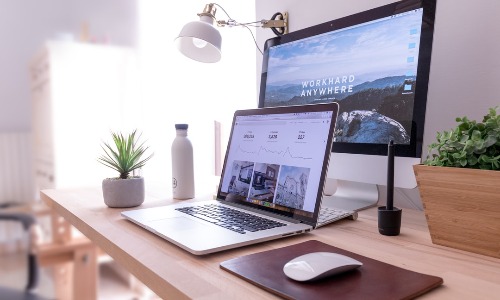 Not only do you need to track your additional income so you can pay your quarterly taxes, but you also want to track your clients, pitches, hours, expenses, and invoices paid. It is a good idea to set aside time and create a tracking and organization system for your side gig that works for you.
I have a spreadsheet called "Records" where I track my clients, the project, deposits, and the date paid. In addition, I keep a spreadsheet for business expenses. I utilize Quickbooks for invoicing and additional expense tracking because it will automatically calculate my quarterly tax payments. In addition, when I was first building my side gig, I used "Clockify" which is a free time tracking website and app. This helped me understand how much time I was spending on specific projects and raise my rates if needed.
4. Templates and Scripts Will Be Your Friends
Side hustle pros will tell you, templates and scripts are the keys to staving off burnout. Purchase or create your own templates and scripts to save you time. You still have a job, family, friends, and maybe even fur babies who need your attention. Try to keep the balance.
Some of the best time saving templates and scripts I used at the start of my side gig growth were:
A client welcome packet with all my services I could send in reply to client inquiries
Email scripts for clients who forgot to pay or have not paid
A testimonial request scripts I could send to happy clients
A good contract and free signing software (HelloSign is free for three contracts a month)
Free scheduling software like Calendly
Social media templates for my social channels (you can use Canva for free)
5. Be Willing to Take On Another Side Gig (What?!)
Once you take the leap and quit your day job, take the time to celebrate, but don't forget that every business has ups and downs. I had a couple of side hustles when I first quit my day job. Part of it was because I was nervous and needed stability, but I also wanted to make sure I was always staying ahead financially.
You may realize that you need to supplement your side gig turned career income with another side gig. There is no shame in having a side hustle as a freelancer or small business owner. It does not mean you failed, it means you're taking control and avoiding taking out debt in order to continue to grow your business.
Lastly, The Side Gig Life Is Not For Everyone
I'll be the first to say that freelancing full time and turning that into a business is HARD WORK. Not only do you need the passion for it, but you also need the stamina- which are two different things once 'time' gets its hand on you. It's ok if you don't want to own your own business. It's ok if you tried some side gigs and decided you did not want to be a side hustle pro. While additional income streams are important for building your wealth, there are other ways you do that without having a service or product based offering.
No matter what you decide, I am rooting for you and your financial success!