We canceled our wedding set for June 5th in Kauai Hawaii due to COVID- 19. We were hoping and waiting that things might change, but it is mid-May and things have still not changed, making us feel even more sure of our choice. If you're now sure how to cancel your wedding or what to tell your guests, feel free to take from this list or from the script below.
Why we cancelled our wedding
Below are the major reasons why we cancelled our wedding.
It is not legal for us to gather
Like in many states, Hawaii has an order restricting the gathering of people. This is for their own safety and a part of social distancing.
This might be lifted before June 1st, but we don't want to risk it.
Hawaii has serious restrictions for travelers
In addition to the no gathering, Hawaii is requiring that all tourists self-quarantine for 14 days once they arrive on the island. You are required to provide an address at the airport for where you will quarantine and a current cell phone number. If you are caught out and about, you can be issued a $5,000 fine.
Obviously we do not want our guests to watch our wedding from a hotel window. There is a chance this will be lifted before June 1st (when most guests are flying out), but it is too much of a risk.
We care about our family and friends with compromised immune systems
We do not want to put our friends and family in harm's way. We have several individuals who will attend our wedding with compromised immune systems. Flying is not a safe option for them right now, and we would never want them to feel like they need to choose between our wedding and caring for their health.
We care about everyone else too
Traveling might be an option for us, but it puts others at risk. We care about their health and safety too. Even with states "opening up", it does not remove the risk for our health and the health of others that traveling entails.
We do not want to celebrate with COVID-19 in the background
This pandemic is affecting everyone in some way. It's not something that we want to have hanging as a back drop to our wedding. We want to be able to celebrate and have everyone attending comfortable with celebrating.
How to cancel your wedding and tell your friends and family
It can be hard to tell your friends and family about your choice. If you are a couple, and you need to cancel your wedding, feel free to grab this script and make it your own.
Hello Family and Friends,
As you know, COVID is sweeping the country, preventing travel and gathering in large groups. While these restrictions are set to lift on May 31st, we want to put your health and safety first. We are postponing our wedding set for June 5th. We hope this news comes to you in time to cancel reservations and receive a refund.

We are heartbroken, but we are trying to focus on how meaningful this celebration will be when it does happen. This wedding does not mark the start of our commitment to each other, it celebrates the commitment we have already made.

We will choose a new date in the next few months once we have a better idea of when it is safe for everyone to travel. The venue and location will all remain the same.

With much love,
Bethany and Charles
How to Cancel Your Wedding and Minimize Financial Damage in 5 Steps
If you cancel or postpone your wedding, you want to try and minimize the financial damage as much as possible. Here are the 5 steps you can take to cancel your wedding.
1.Notify your guests
I used paperless post to send them all a quick message. You can also create a Facebook event and invite them. This is helpful if they need to discuss how to return gifts or cancel travel plans.
2. Talk to the Venue
If you postpone your wedding, talk to the venue about picking a new date. Ask when you would need to decide on a new date and when/if they are re-booking right now.
If you cancel, make sure you have read the fine print. You might be able to get your deposit back. COVID is an unforeseen circumstance and a global pandemic, so there might be an exception.
3. Talk to the Caterer and all Vendors
If you ordered a cake, booked a service, or made any other arrangements you will need to call and cancel or let them know you are moving your date. Most venders have a cancellation policy, so if you make the choice early enough you could get your deposit back.
I plan to stick with my vendors, and they were all happy to press pause on the services and work with my new date.
4. Thank everyone and be understanding
If a vendor or venue cannot refund your deposit say thank you anyways. A policy is a policy and they are probably trying to stay afloat themselves right now.
If you can't re-schedule for your preferred date, say thank you and assemble the troops to make a new plan.
5. Plan for additional costs
If you are moving your wedding date, you could pay a fee. You may also need to pay more for the venue or vender if you moved the date to the wedding season where rates are higher. For us, we know we will pay more for food, as the prices for catering increase incrementally each year.
Canceling or postponing your wedding will not be seamless, but if you follow these steps you should be able to feel some control of the situation.
We are going to postpone our wedding for a full year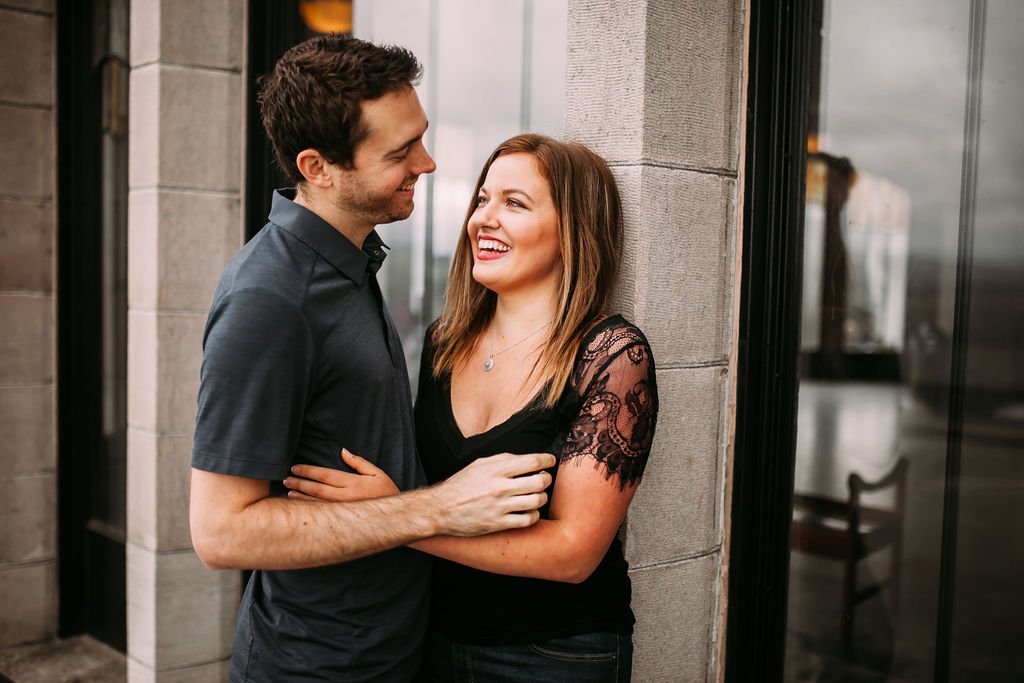 We have been planning our wedding since we got engaged in March of 2019. (Look at how blissful we are in our engagement pics!) We shed our tears, wrote our note, called everyone and now we are looking forward to our future wedding date- in June of 2021. We are just hoping that it is safe to travel by then and that the world has started to recover from the hardship this pandemic has caused.