I splurged on a laptop bag. It was so easy to do. I also don't feel terrible about it. It's normal to think of splurging as a negative thing. Something to feel guilty about. Should we though? Can splurging be positive? What does it do to our brain? Does every financial purchase need to be planned?
Generally, splurging is a good thing. Let me explain.
Why Splurging Can Be a Good Thing
Psychologists agree that retail therapy is a thing. In fact, when we buy something we can get a high from it. It is a short cut to the pleasure center of the brain. Splurging acts as a charge for the brain.
Splurging also relieves stress for a short bit because it feels good. Shopping feeds into our evolutionary need to hunt and gather. Finding the perfect deal can feel like a score-literally. Psychologists also say there is really nothing wrong with it either. It is good to engage in behavior like this OCCASIONALLY and with intention.
If you want to have no regrets about your splurge, then it needs to be in the budget. So in that way your splurge is planned, but not when or what yet. Just a little fund that allows for the positive effects of a splurge.
The Dark Side of Splurging
Every company is trying to get you to spend money. At every turn you are bombarded with ads. It's inevitable that you will splurge every once in a while, but it should also be done so with some caution.
The danger comes when splurging starts to affect other areas of your life. If it means your emergency fund is no longer a priority, then splurging is not a good thing. When splurging becomes habitual or when it leads to chronic overspending.
Staying aware of your money and money habits is important to avoid the dark side of splurging and instead enjoy the big item you purchased.
If you feel like splurging is actually a problem for you, then implement some rules to change your spending habits.
Tips for Avoiding a "Splurge Habit"
Obsess over your finances and constantly know how much is in your accounts.
Talk to your partner, friend, spouse about a large purchase ahead of time.
Put it on a 72-hour waitlist. If you still want it, then buy it. I have filled up carts online never to return again with this rule.
Look at the long term value of an item.
Reflect on the "why". Is it an emotional purchase?
I've had to do all of these multiple times when I slip back into old habits of spending too much money. It's good to stay accountable with splurging.
Questions to Ask Yourself before Splurging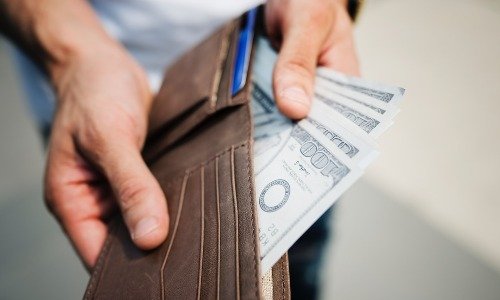 If you are going to splurge it's good to have some questions in the back of your mind before swiping the credit card. These are a way to keep your splurges in perspective with your financial health.
Do you have an emergency fund?
Having some money put aside for the day the car breaks down is a must. This doesn't mean I am telling everyone who doesn't have 3 months of expenses in the bank not to buy things. That isn't how personal finances works. Instead, make sure you have a small amount put aside so that an emergency does not wreck your finances.
Have you researched it?
If you are going to splurge, it might as well be something that will last. Doing some research on YouTube and reading reviews is worth your time. We always check out WireCutter before making home purchases. I am obsessed with reviews of items, because I want to feel like the item is going to be worth it.
Will it derail other major plans?
The size of the purchase could mean it derails other financial goals. Buying a new car and buying a new laptop bag will have very different lasting effects on finances. If the splurge will stop you from making your extra debt payment or contributing to your retirement, you need to decide if that is really worth it.
Are there rules for what to splurge on?
Well, no. There are really no rules other than to make it an affordable purchase. Items that you use everyday will have more value, and this can be justified. Spending money on memories like tickets or travel is also a good way to splurge. I would also say that spending money on others or for others can be one of the most rewarding ways to splurge. Not only does this fuel your need to spend, but also the need to care for and about other human beings.
What do you splurge on? What was a recent purchase that you have no regrets about? Why?